Hello people, welcome to yet another blog post! This post is about a new project that I just finished called Shore to the Core. This project was all about the history of Vancouver, Canada specifically North Van/North Shore. Each student in my class had to pick a historically significant topic of interest as long as it was on the north shore and was dated after WWII, this is because of our driving question "How did Canadian society change after WWII?" After a bit of thinking I knew that I wanted to research something on art because art is one of my hobbies, to narrow down my topic I decided to focus specifically on Indigenous art in North Van, and how the art tells stories. 
At first glance, this project might seem a bit boring to read an entire blog post about if you are not interested in the significant history of North Vancouver but do not stop here because it gets more exciting. Not only did my class have to research these topics, but we also had to research for a museum to put on a section of their website. This museum is called the Monova Museum of North Vancouver, and my class had to make a zine. You are most likely wondering what a zine is, a zine is a magazine, the actual definition is a noncommercial often homemade, or online publication usually devoted to specialized and often unconventional subject matter. 
The first step to creating the zine was research and more research. I took notes on a couple websites to help me understand my topic of indigenous art better. I first looked at the websites of local indigenous groups, mainly Musqueam, Squamish, and Tsleil-Waututh peoples. After I read and took notes on the culture of those specific groups I did more research, specific to my topic. I looked into local artwork that I thought told stories. I found a couple art pieces that fit my topic, The Welcome Gateways at Stanley Park, The Hwy 1 Mural-Coming Together, and Red a Haida imagery and Japanese manga graphic novel. I chose only 2 of the artworks to represent my topic, Red the graphic novel, and the Mural-Coming Together. 
The next thing I had to do was write my multi-paragraph composition AKA an essay. I had to write an essay so that my section of the zine had enough information, not just a bunch of pictures and quotes although it did include those. Before I got to writing my teacher had everyone look into formatting. We had to have the essay formatted in a certain way, the essay had 1 intro paragraph with a hook at the start and a thesis statement at the end, next 3 evidence paragraphs supporting the thesis statement, and finally the conclusion paragraph that rephrases the thesis stamens and ties all loose ends. We read an essay written by an old student (who coincidentally was my brother) to see the format being used. Then I made an outline for the essay stating what my thesis statement was, the hook line, and the info I would mention in my evidence paragraphs. Mine wasn't very organized but it helped me write.
And last but not least what I had been looking forward to, creating the zine. The whole class was making this so it had some restrictions you could only have 2 or 4 pages no less not more. My essay was about 900 words so I had to take the 4 page option, I wish there was a 3 page option cause I think that would have looked better organizationally but you get what you get so I made it work. The requirements for your pages were: 
Catchy Title 

Author Name: By First Name First Letter of Last Name

2 OR 4 Pages (cannot do 3) 

Portrait Layout 

At least 2 photos 

At least one QUOTE to add to pages 

Reference List: Cite at least 3 Sources 
I believe I did well on the requirements and am personally really happy with how it turned out if you would like to see the whole zine it will be on the North Van Highlights section of Monova but if you would just like to see my part here it is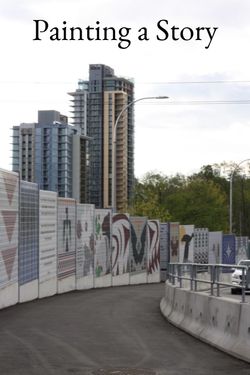 Thank you for coming on another learning adventure with me even if you just looked at the pictures, I hope you enjoyed it. Goodbye for now.