Hi everyone,
In this blog post, I will be writing about my first learning advance to Loon Lake. A learning advance is PLP's way of saying field trip.
Loon Lake has all the things most hotels have including a half-court gym and a cafeteria. Rather than staying in the hotel we stayed in our separate cabins. There were 5 cabins at our disposal. But what Loon Lake is is a cancer retreat for kids who are cancer survivors or have cancer. Loon Lake also has a field and a hiking trail with a rope bridge to get across the lake. Here is a picture of where Loon Lake is.
Here is my book. Each day I added pictures to my book and also explained my favourite part of the day.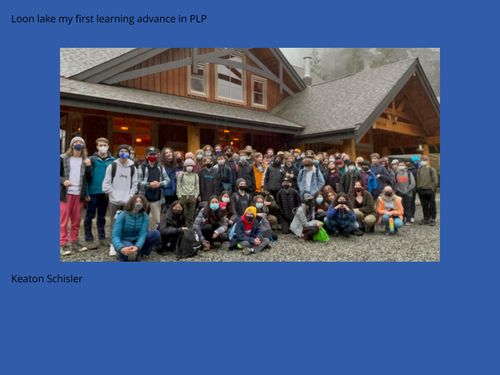 Here are some pictures I took. Below the picture I will explain what happened.
This is where the grade nines slept. Some activities happened in the basement of the cabin like DI and advisory groups.
This is our advisory group picture it is called wolfie fish its a wolf and a jelly fish. The advisory groups are where we just talked about our day and made our e book.
This is what the lake looked like in the morning. The lake is approximately 6 kilometres long.
These two pictures were of the fort we made. The fort could fit seven people comfortably and 10 people squished. The type of fort was a lean to.
I learned many things on this trip here are some of them. I learned about what field studies entail. I also learned more about surviving in the forest by building shelters and forts. I learned all the different types of forts a lean-to a T pe and an A-frame. My team built a lean-to that could fit 10 people and 7 people comfortably. We also did DI there so I learned more about what we were going to make for DI. I also learned about the N.A.M.E for the renaissance project we're doing in humanities. This stands for.
Novelty
Applicability
Memory
Effects
I also learned how to play pinpoint laser tag and archery tag. I also tried new foods and new food combinations. What I could do better next time. Next time I could just know my schedule because I was relying on my friends for where I am going.
Thank you for reading this blog post and I hope you enjoyed learning about my first field trip. If you would like to visit Loon Lake's website here it is: Loon Lake.