It's that time of year again where I do a mPOL. As always, I must start with making the POL declaration.
Thank you for coming to my presentation of learning. I am the expert on my own learning. I am also responsible and accountable for my own learning. You can expect me to give an honest evaluation of my progress. We will discuss my strengths and opportunities for growth. Thank you in advance for listening and for offering feedback that I can use to improve as a learner.
At the end of last year, I did my tPOL. In it I talked a little about how one of my biggest problems is procrastination, which still is still the case but for a different reason. Last year my problem was more with how I managed my time poorly while this year is more with the shear amount of things that I have taken on. I am the kind of person that joins many many things and fully commits to them, in other words I bite off more then I can chew. I have always had a problem with this but I feel that it has become more apparent this year, at least in my eyes. Because of how much stuff I have going on, it's less of a question of if I can manage my time, it's more a question of if I have the time at all. This leads me to procrastinating things that I don't find as important so I can try and give the more important things my time. 
Me biting off more then I can chew does have some benefits, for example the work that I hand in. I think a good example of this was the asexual reproduction comic that we made in science. In this we were tasked to make 5 different comics on the different ways of asexual reproduction. At the start of this, I planned out to make each comic with detailed drawings, an interesting story line, and more. The problem was that this was a lot for me to do, especially with other things that were going on, inside and outside of school. So I ended up putting it aside and doing other things that I thought were more important. When I finally came back to it, it was late to hand in and I didn't have a lot done, so I had to do easier versions of what I originally planned. This is something that I found helps my work because when I try and go big on a project and end up having to dumb it down, it still ends up better then if I had started small and built up on it. 
Another thing that I want to work on this year is my learning habits/systems. In my learning plan (which I'll talk more about later). In my learning plan I said that I wanted to get into the habit/system of doing my homework in shifts (20-30 minutes of work with no distractions then a 5-10 minute break with rewards for myself when I get things done). I find that this strategy really works for me and helps me get into the right mindset to get work done, the only problem being finding enough time at once to sit down and get stuff done. I find that I only normally have less then 1 hour at a time, unless it's a bit later at night, to get the work done. This makes it harder to stick with this habit/system so I have to work extra hard this year to be able to stick with it. This may prove to be a challenge but I think it will pay off in the end.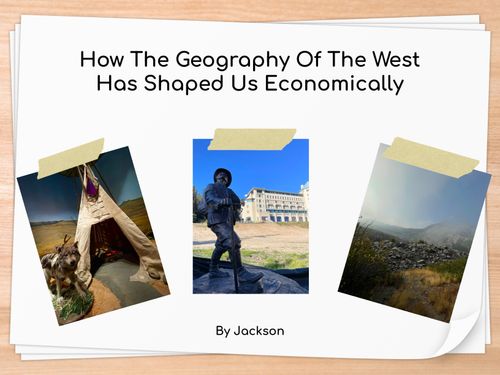 One thing that I think I have been doing well with this year is FAILing then learning from those FAILs. As you may know, fail stands for first attempt in learning, and I think one of my strengths has always been my ability to learn from my mistakes and improve on them. A good example of this was the Power of Geography ebook. This was something that I FAILed in a lot, and was still able to take criticism and learn from my mistakes to make it something that I am proud of. In my first draft or two, my ebook looked very messy, had too much writing compared to the photos I had, and even the photos themselves were poorly edited, if even. Through the feedback I got, and even my own personal opinions, I was able to pinpoint specific things that needed work and fix them. I was able to cut the text down to a manageable amount, I was able to lay everything out in a more visually appealing way, and the thing I spent the most time on, I was able to edit all the photos to something that I was at least somewhat proud of.
Looking back, there is always stuff that I'd want to change within my projects and work that I hand in, and an amazing example of that was with my first film documentary. This was a project that I more or less had to do most of the work last minute on it, due to the interview portion. I ended up sending out emails to around 3 or 4 different people and/or groups. The ones that responded mainly said that they couldn't. This lead me to only really being able to plan out my video and get bits and pieces of the B-roll. Thankfully on pretty much the last day possible I asked Mr. Hughes for an interview and he was able able to do so. Once I was done with the interview, I still had to get more clips of B-roll, now that I knew what specifically I needed. I was able to get some revisions the next day for my documentary, but there is still a few things that I would want to change. My biggest thing looking back that really needed to be changed was the part where I actually talked about avatar. I think that it was too sudden and too short to make a lot of sense. I think I could have given it more of an introduction at the start of my documentary to give it more context and not make it seem so out of place. I do think that if i was to go back to it now and edit more and revise more, I could make it a lot better. 
The final thing that I'm going to talk about is my learning plan and what I could maybe even change. I thing that this year, for the most part, I have done a good job at keeping to the goals that I set for myself on my learning plan and getting the proficiencies that I wanted. There are always a few exceptions were I found that I haven't done my best work or met the goals I set for myself, but I thing that for each subject overall I have been keeping on track. Something that I think would be a good thing for me to change would be to change my goal to an extending in humanities. Since humanities will be my only PLP class next semester, I think that I should set my goals a bit higher in it. Humanities it also not my best subject so I think that setting a higher goal might really help me try and understand it better. 
In the end, I think that this has been a fairly successful semester, but still with room to improve.