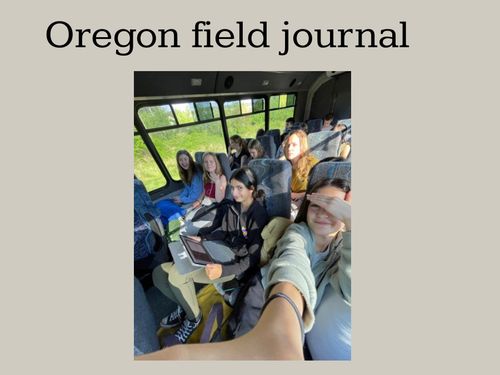 Before I had the opportunity to go to Oregon I didn't really know what to expect as I did not know much very about the United States and I had only been there once before this trip. I did not expect that Oregon which is a 8 hour drive away to be similar to many  places that we have here, mind you some places were also very different; like the fist ever bench we went to had a sandy beach with sand dunes but again there were also many places there that looked pretty similar to the north shore. One thing that shocked me was that it was a lot colder than in Oregon than in Vancouver at the time which is weird because we live further north than Oregon.
I learned so many things in Oregon that we documented all in a journal that is right here up here👆
Some of my biggest takeaways from this trip are:
1. Hatfield marine science center!
During one of our visits at the center we had the opportunity to go to the beach to suck up shrimp with these interesting suction devices. It was super cool to learn about the shrimp that we were finding, as well as the experiments we did with them after we measured the shrimp to see if females or males were larger. This capturing part was interesting to me because I had never seen that being done before and it was cool to learn how to do it. It was also fun when we caught our first shrimp because our first few tries were fails but when we practiced our technique, we got better and we ended up catching lots of shrimp in the end! We even caught five shrimp in one try! This is what the tolls looked like that we used.👇
Speaking of the Hatfield marine science center this was also the company i made an advertisement for, as well as interviewing a person from their company. By doing this interview, I learned that the center is unique because they offer hands on  learning and an experience to learn about Oregon and it's gorgeous coast. They also give you an amazing experience by seeing the octopus and other sea animals living in Oregon. The Center is unique because it offers opportunities to be able to see things you don't normally see; like fish and skeletons of marine animals. They make a positive impact by giving education for everyone in a fun and innovative way, as well as letting parents see their kids grow and learn in a fun and interactive way. Hatfield marine science centre also gives awareness for nature and marine biology not only with their awesome visitor center but also by the experiments they do in the lab with marine animals and college students. Hatfield marine science Centre loves to see people all ages, young to old come and visit their visitor centre where they can learn about organs costs!
IMG_0892
IMG_0899 
Another cool  thing that we saw was the shipwreck that we visited on our  the first night. Even though we're just playing around on the beach I found the shipwreck to be super interesting, and I was really shocked when we went to the Columbia River Maritime museum that there was a whole section about that ship and items from it. I thought this was really interesting as there was even a book showing photos of how the ship had eroded over time. The ship was called peter Iredale and is located in the fort Stevens state park.
Speaking of Fort Stevens, a really interesting place we went to on the second day was called Fort Stevens. This visit was really cool because we got a tour of the underground part of it where they kept the gun battery during World War II it was really neat because there was a lot to see and it was like a maze. It was also really cold down there and we learned that there was actually a fire down there but no one tried to save the bunkers, so all that was left was the concrete walls. We learned that it was liveable down there and that there was wood on some of the walls and beds were the workers would sleep. They also had special rooms for cannons and gun powder. I learned that when the Japanese shot at the fort from a ship 17 times but missed! The fort did not fire back because they did not want to give away their location.( since you can't see it from the water.) We also learned how they would fire the guns and we even got to look around in the Fort museum.
However my biggest takeaway from this field trip was you yaquina head lighthouse and beach. This was a really cool place because we got to go tide pooling with Miss Kadi! This was a really fun way to learn since there were so many cool animals to see in the tide pools, and we even got to see baby seals! There was also a super cool cave by the beach that we got to go inside. I loved exploring the sea here and it was a really fun day! We also got to do a quest which helped me with my teamwork and figuring out things as a group. It was amazing because when we got to the top of the hill there was an incredible view of the gorgeous beach and ocean with people surfing!
In conclusion I have learned more during this field study than i would have if it was just another regular week at school. Learning outside the classroom is so much more interesting because you really get to experience things in real life instead of just reading about it. I also got to know the people in my program a lot better and I feel like we have come together as team. I am looking forward to doing a lot more field studies in PLP next year. 🤍