Oregon, Our First Field Study!
Our first field study was a whirlwind, to say the least. It had its ups and down and it was cool. We had so many great experiences that we wouldn't have had anyway.
When you interpret so much learning in such a small period, without much time to go back to these things that you are learning because you are onto the next thing it's very easy to forget things but ill try my best to remember as much as possible.
There were some things I didn't think about that I would learn about before. One of the most important things that I noticed (ok two), was that it is POSSIBLE FOR ME TO NAP. For some reason before this trip, I just couldn't. On this trip, I slept on the bus a lot. The second was to fuel at breakfast. Sooooo important to get all the energy you need for the day. This way I didn't get hungry for the rest of the day.
I also got closer with a bunch of my classmates, all of my sleeping groups were so good.
One of my favourite stops for other learning was Fort Stevens. This was included in my book but I wanted to add more information. We were so lucky to get to have met the reenactors. They were so passionate about what they were doing and it's always nice to see that. I even got to try on a parachute helmet from ww2. The ones I spent the most time with were the British/Canadian ones. They were very happy to meet us. Our tour guide was also very into it. I never thought I would learn that much about guns that move up and down in one day.
Though maybe not directly part of the learning I also loved the quests. They were so much fun! The feeling when you figured out the clues was so nice. Our team worked pretty well together too.
Project learning (aka the interview)
This was a lot chiller than I thought it would be. The ranger we talked to actually had a background in advertising (a little intimidating). It surprised me that they didn't know that we were making ads for them. We got lots of great info that I'm very happy with. Yaquina Head is a pretty place.
Extra Pictures
(None of them would upload)
Learn more in my Journal (completed during the trip)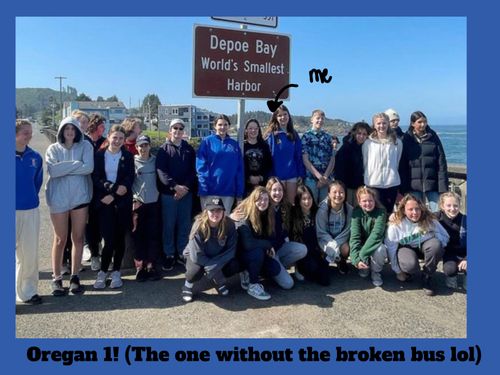 Bye
Neko