Hello lovely readers, and welcome back to another blog post. Today, we are going to be talking about our most recent project in Humanities: Shore to the Core.
Throughout this project, we created multi-paragraph compositions (essays), focused around a local and a national topic of significance. We then turned our multi-paragraph compositions into zines, that are going to be featured at MONOVA!!
How did all of this even happen?
It all started on a sunny Tuesday afternoon. We walked down to Deep Cove as a class, and started learning about the history of North Vancouver.
We were then tasked with choosing our topics. We were focusing on both a local and a national topic of significance. We settled on topics from old growth forest and trees on North Shore and the importance of preserving old growth in Canada, to entertainment in North Van and the development of CBC and Canadian entertainment in the 1950s.
My original local topic was North Shore Rescue, my national connection was trail use in Canada, and the significance of those was the rise of natural recreation in a dying world. I got as far as creating an outline with this topic, and then I realized how much more impactful I can be with my writing.
We had the chance to talk to Carol Ballard, who is the Education Curator at MONOVA. Something that she said really stood out to me.
"We need to think of place as a context, as a locality, and as an environment. While we think about place, we need to think of the past, and ongoing stories that are tied to colonization"
After listening to Carol speak, I realized that there are countless stories of oppression due to colonization in North Vancouver that have yet to be told. This project opened the doors for me to look beyond the history of North Vancouver that I knew, and further into the stories that are covered up to this day.
In the end, I decided to focus on St. Paul's Residential School, and the attempted assimilation of Indigenous people in Canada. You can read my final essay here, and look at my zine pages as well!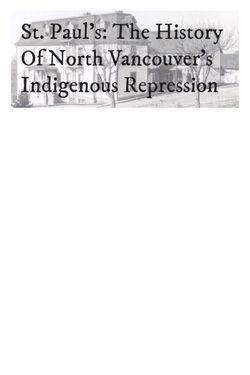 This project pushed my thought process towards unconventional stories, and how going outside of my comfort zone and into the unknown can really help deepen my understanding of the world around me.